I was a Chiefs fan as a kid and have greatly enjoyed the Mahomes era. This year, despite their league-best regular season record, they weren't dominating on offense they way they have. Culminating in their defeat in Super Bowl LV on Sunday to the Buccaneers, by the largest margin (22 points) of any defeat in Mahomes' professional career.
Why did they lose? Brady is the greatest quarterback ever, yes, but Mahomes has beaten him before. The main reason why the Chiefs lost is summed up in this graph, tweeted by stats prof Michael Lopez @StatsbyLopez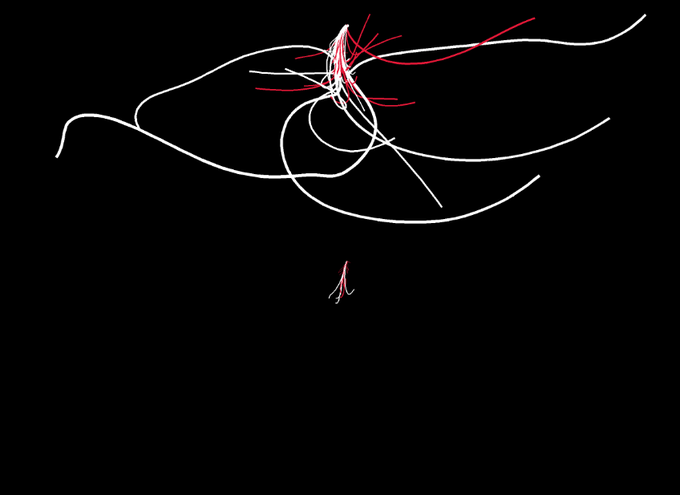 Each line is the distance run by Mahomes (top) and Brady (bottom) on each shotgun snap. Red lines are completions, white lines incompletions. If you watched the game, you might remember Mahomes running halfway across the field on multiple occasions to get away from Tampa's defensive linemen and forcing throws at the last minute. Tampa Bay's pass rush was dominant all game.
Why was Tampa's pass rush so dominant?
The Chiefs' offensive line was missing multiple starters.
Guard Laurent Duvarney-Tardif took a leave of absence this season to fight covid back home in Quebec. Because he's a doctor. Who earned his MD during NFL off-seasons. Tackles Eric Fisher and Mitchell Schwartz missed the Super Bowl with injuries. The Chiefs shuffled linemen around and threw a backup in to start. As soon as I heard that in the pregame show, I had thin hopes for a Chiefs win.
(It didn't help that, with Tyreek Hill shut down by Tampa's two high safeties, Travis Kelce was a needed option in KC's passing game, which meant he went out to catch much more than he stayed in to pass-block.)
I repeatedly tell people that offensive lines win football games. The guys no one knows by name are the key to the whole thing. Only they allow the glory boys like Brady and Mahomes to shine in the spotlight.
Super Bowl LV was a prime example why.
This principle applies to much more than sports.
The history books continually say that "Lee won Chancellorsville" or "Grant won Spotsylvania Courthouse" when the victories were won by thousands of men forgotten by the history books who were doing their jobs the best they could. Ferdinand de Lesseps gets the credit for building the Suez Canal when thousands of engineers and laborers are glossed over.
To translate a passage from Bertolt Brecht's poem Fragen einen Lesenden Arbeiters (Questions of an Educated Workingman):
'Alexander conquered India.'

He alone?
Remember the men and women who do thankless jobs. If you're one of them, rest assured, I know what you do. I grew up with you. I see you behind the wheels of tractor-trailers, on construction sites, at the refineries lining state highway 225 in Pasadena, Texas, and in factories and farms across the USA and around the world. I have the utmost respect for you.
If you're quarterback, the general, the CEO, the star of the show, remember this: Contrary to the potted history Brecht quoted, Alexander didn't conquer India. He barely entered the country before his soldiers refused to march further. Without them, he could do nothing. Without people like them, neither can you.